Online Meetings: The Temptation to Censor Tricky Questions
Early in 2020, at the outset of the pandemic, the UN's special rapporteur on torture and other cruel, inhumane or degrading treatment or punishment, Professor Nils Melzer of Switzerland, spoke out about the growing problem of cybertorture.
The UN's Forum on Business and Human Rights is taking place this week. It is online due to the pandemic. In the session about accountability and remedies for victims of human rights abuse, a participant asked about Google. A British parliamentary report and US Department of Justice investigation has used terms like digital gangster and unlawful to describe some of the things they do today.
Yet when they entered the UN's online event and asked a very general question about the connection from Professor Melzer's analysis to Google's modus operandi, the question vanished. They posted a subsequent question asking why the query was censored and it was immediately subject to censorship. This is the golden rule of censorship: don't ask about censorship. Nobody ever made any complaints about the question.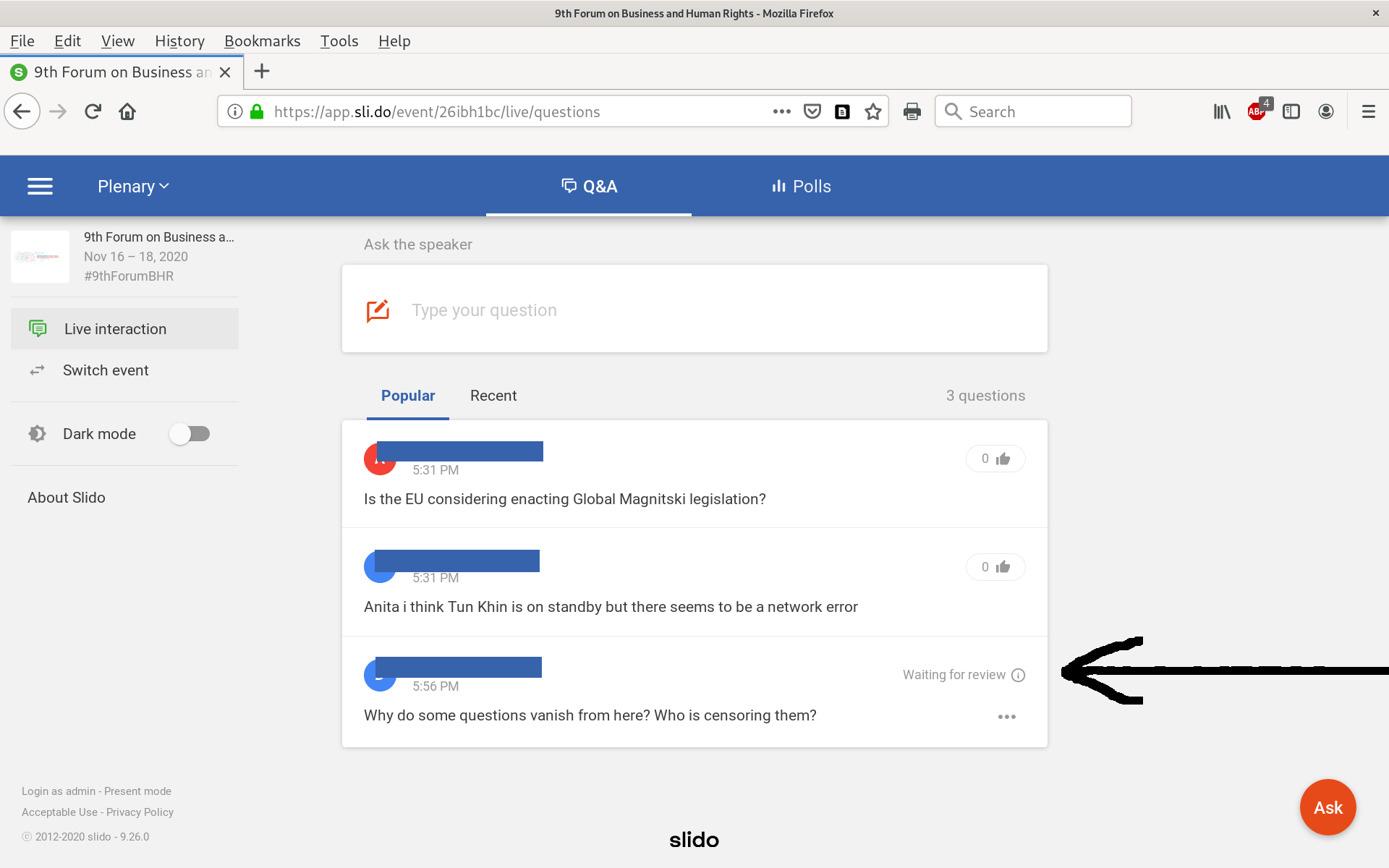 Article 19 of the Universal Declaration of Human Rights proclaims the right to free speech. Within the first year of the pandemic, the UN has already set that aside, not wanting to offend the Googlers who have planted lobbyists everywhere in the corridors of power. Maybe somebody from Google has volunteered to run the censorship/moderation system? If somebody asked the same question in a real world event at the UN in Geneva or New York, would a trap door open up underneath them and make them disappear? Or would members of the panel and the audience need to contemplate Professor Melzer's work on cybertorture seriously?
If you wish to participate in the final day of the forum, you can use the following links:
This incident emphasizes the extent to which online events are been scripted and choreographed to look like spontaneous discussions while in reality, they are maintaining the status quo.
This demonstrates a huge difference between real world events and online events. In a real world event, when somebody stands up to ask a question, the chair of the meeting or the panel has no forewarning about the question. Online events change that dramatically. Observers may not know which questions were really avoided.
When technology gives leaders the opportunity to simply avoid difficult questions, they are tempted to do so, whether it is in the annual meeting of a local bridge club or a UN forum.